Details
Player's Perspective
Music Store Live is proud to present this 1966 Fender Jazzmaster! This vintage JM plays quite well and delivers the tone of a fine vintage Jazzmaster. It can be bright, woody, thick, snarling as well as luminous. The neck feels terrific like a well played and worn in vintage Fender neck should feel. The pickups sound amazing and there are no electronic issues on this guitar. The trem arm works very nicely. It has plenty of give without feeling flimsy and still retains a tight response. We have set this Jazzmaster up so it is ready to rock upon arrival. The neck is straight, the action is set on the low side and the intonation is very good.
Item Details
This 1966 Fender Jazzmaster is all original with the exception of the replaced bone nut, the frets, the repro trem arm and the case which is newer black G&G Fender case. The pots date to 1964 which is not uncommon for a Fender guitar from this era.
Some of the most prominent features on this Jazzmaster include an Alder body in 3 tone Sunburst, a bound rosewood fretboard with clay dot inlays, Kluson Deluxe tuners, two Jazzmaster single coil pickups, floating tremolo bridge with trem lock system and Jazzmaster controls. Not to mention the amount of flame this maple neck is boasting! A rare feat inded for this era. The guitar weighs 8.0 pounds and the serial # is 140500.
Overall Condition
This 1966 Fender Jazzmaster is in very good/ excellent condition. It plays and sounds very good and we are sure the next owner will get years and years of killer play time from this guitar. There are some signs of play wear as you may expect from a guitar of this vintage. There is a ding on the top below the pickguard which you should be able to see in the pictures. There is some light to medium finish checking throughout which is on par with that of other Jazzmasters we have seen from this era. The neck is clean with the exception of one or two extremely small finish chips that don't effect playability. The refret was done excellently and the frets are in excellent condition.
This is a hot axe any way you slice it. It has tremendous vintage appeal, killer looks, stellar tone and it still plays like a champ. This is the kind of guitar you start a band around if you know what we're saying. It has tons of character and it's only going up in value. Enjoy this one for a long long time.
Specs
1966 Fender Jazzmaster

3 Tone Sunburst
Alder Body

Contoured, Offset Body design

Maple Neck - C profile


Rosewood Fretboard

Clay Dot Inlays

Tortoise Pickguard

Fender Jazzmaster Soap Bar Single Coil Pickups

3 Way Switch

Jazzmaster Controls

Nickel Hardware

Kluson Deluxe Single Line Tuners

Scale Length 25.5"

21 Frets


Jazzmaster Floating Tremolo Bridge

Tremolo Lock System


Replacement Trem Arm

Replacement Bone Nut

Refretted


Newer G&G Fender Hard Shell Case



Weight 8.0 lbs


Serial #

140500
Our in house guitar tech has inspected, tested, and cleaned all of our instruments on site prior to shipping. All of our instruments are guaranteed to be fully functional upon arrival.
At MusicStoreLive.com we live the life of a musician just like you do and we wouldn't have it any other way.
We know that your gear is a big part of that life and the path you're on to express yourself. Whether you're an old pro or a fresh fish, we know that when you find that special piece of gear it connects you with something larger than yourself. It's nothing short of tribal in the way that we end up connecting with the same iconic pieces of gear. A '59 Gibson Les Paul Standard, a '57 Fender Stratocaster, a '59 Gibson ES-335, a Mary Kaye Strat, a pre-war Martin dreadnought or an old Gibson J-45… the list goes on and on as you well know.
Times have certainly changed since those older favorites were manufactured. We live in a new world now and our goal at MSL is to revolutionize the way new, used and vintage gear is purchased online. We aim to bring you the very best demos for your favorite gear, informative and instructional tips to help advise you with your purchases and much more. At MSL, it's about more than just videos and technical knowhow. It's about the person on the other end of the line. We know that by bringing a world class music store into your living room and by providing you with the very best customer service we're going to make you happy and that is exactly how we measure our success. We feel our customers excitement everyday and that's why we do what we do.
We see music and music gear as a vast community that connects us around the globe. Whether you're in Tokyo or Toledo, Shanghai or Chicago, Paris Texas or Paris France, we invite you to join our community and help shape the best online buying experience possible. We're in this for life. Experience it with us!
MusicStoreLive.com | Listen, Watch, Experience
Customer Testimonials
I will definitely be buying more equipment through your business and will recommend you to everyone I know....
Dear musicstorelive,
I want to take this opportunity to thank you all so much from the bottom of my heart for your excellent, professional service. The 350v63 Rickenbacker guitar is in perfect condition and exactly as described and I'm so very happy with my new guitar. This model Rickenbacker is what I have wanted for more than 30 years, and thanks to you guys my dream has finally come true. I will definitely be buying more equipment through your business and will recommend you to everyone I know. Thanks again.
- Grant Johnston
"Ben and his team are the absolute BEST! These guys not only know about instruments, they actually know about a little thing called CUSTOMER SERVICE! These guys saved me $$$ on my new Fender Deluxe American Ash P-Bass, I will spare the details as if everyone knew the kind of deal you can get here, they would have to close up shop, and I'm not ready for that yet. I could NOT believe it... the more I kept digging, the more cool little things I discovered... I am actually still trying to find out where I'm getting screwed here... I GIVE UP! Keep up the awesome job! (at this point, I am going to forego the string offer here... it just wouldn't be right). Thanks again!"

-Iam Shocky

The ES339 arrived.

It's beautiful. It looks brand spanking new. And plays really well. I must admit I was nervous buying online. I felt I was risking a lot of money based on a "sales description". Your description of this guitar was conservative. I appreciate that because it is in better shape than you described it. Wow, is all I can say. Thanks for the honesty and then some.

I couldn't be happier. What a lovely guitar. There really is a difference between a Custom Shop and normal Gibson production fit and finish quality.

Here's a picture. So please don't worry, the guitar feels very secure in its new home. FYI, that's a Heritage 335 with Seth lovers and a Logan Tele with DeMarzio pups on a 5 way switch next to the 339. It's in good comfortable company.

Thanks for a good deal and I'll look to you guys for my next purchase.

-Todd, Connecticut

The Spruce PRS and I have become very good friends. Thank you for the excellent service and communication. It was a seamless purchase and I could not be happier. The guitar arrived with exceptional packaging and in stunning condition. I cannot emphasize adequately how well the guitar and case were prepared and packed for shipment. THe guitar has a wonderful voice and a range of tone I have seldom seen in any guitar. The piezo by itself is remarkable and emulates an acoustic very well, especially when linked to an acoustic amp using the second output jack. The jazz tones are lush and round with an overtone of the woody sound. It's playability is superb and can scream if called for. The weight is a bit disorienting at first. Initially, it felt like a toy but time on the strings corrected that perception. I am still amazed at the sounds that come out of that 5.4 lb instrument. AS you can see in this photo, it has made friends with an old friend of mine, a 1965 Fender Princeton Reverb that has been with me for well over 20 years. I just re-tubed it and upgraded the speaker as the original Jensen P10Q id not come with it although it is otherwise mint, so warm meets warm. Thanks again, guys for the purchase and terrific support. Here are the newlyweds.

-Jim

"What can I say. MusicStoreLive.com ALWAYS has some great vintage stuff, but when I saw this one, it was all over! I had sold one exactly like it to a collector, some years back, and had always regretted it. When it comes to guitars, Ben at MusicStoreLive.com is someone who doesn't just sell them, but loves and appreciates a fine instrument, and recognizes it's unique qualities. He was GREAT to deal with. I just can't say enough about how professional and easy the transaction was. I actually consider Ben a friend now, and my wife and I really hope to get up to see him some time in the future!! You'll LOVE dealing with MusicStoreLive!!!"

- Rick Rizzi

"I was very skeptical about making a purchase online. These guys made it easy for me. They answered all my questions, maintained a professional attitude the entire time and they were more than willingly to work with me. The 2000 Warwick Thumb bass I purchased arrived last Thursday. It was expertly packaged and had a good set-up right out of the box. It is the last bass I will need to buy because it destroys everything else in my collection. I have worked with a lot of companies over the years and have never gotten the kind of service that I received from these guys. I would highly recommend this company for anyone looking to buy a quality instrument."

-Lee Hinson

Hi Ben,

I've got the purple Rickenbacker bass today. Everything is great. Seems that he had a very gentle journey. It was very well wrapped, no damages, no complains;-)

The Rick has topped all my expectations. Can't stop playing it!

It was me a pleasure to make this deal with you!

Best wishes,

Max
Luxembourg.

Hi guys....thanks for offering up another great prs...my second singlecut prs purchase from you!

-Jeff Thibeau

This thing is the real sound-heaven on earth!

Greetings from Germany,
The PRS - Al D arrived last Friday morning...everything´s in perfect condition.
As you can see on the picture from my "living-room", I´m a "little bit" crazy in guitars,-
but one thing I must say:
it does´t matter if I use a Peavey, a Fender or a Mark IV-Amp
this thing is the real
SOUND-HEAVEN ON EARTH.
Thank you and best wishes!!!

-Heiko Reifenberg

Buying online can be very risky and one has to trust the honesty and integrity of the retailer....

Hi, I've just received (as of yesterday) the white '79 Rckenbacker you sold me (April 25/26). I've left feedback on ebay and would have liked to have said more if there'd been the space to do so. The bass sounds amazing. I've got a 4003 model which is only a few years old, so it's interesting to compare the two. The sound of the older one is vastly superior. It's a truly beautiful instrument.

Buying online can be very risky and one has to trust the honesty and integrity of the retailer. Your description of the '79 4001 was accurate; it was well photographed so I had a good idea of what I was buying. My anxiety was further allayed by the prompt and friendly emails from your salesperson, Paul. The most worrying time was when it was in customs in the UK!

I wouldn't hesitate to recommend you. Thanks again from a delighted customer.

-Joan Bimson

Let me reiterate to you my gratitude for how you have handled this situation. It is really refreshing to see a company be so honest and to take responsibility and action to ensure their customers get the best possible experience. I have been searching high and low for a reasonably priced Euphoria from a reputable dealer for a long time now, and I am really glad I went with you guys. A lot of folks would have probably simply said, "Sorry, we're out," and refunded me, but you people did the legwork to make sure I got what I asked for. I totally understand that minor mistakes happen even with the best of the best, but the poise, humility, and follow-through with which you have handled this has been nothing short of stellar.

As stated before, I WILL tell my friends about your company, and you can expect future business from me as well as positive feedback. Thanks for treating me like a human being and handling yourselves like a "ma and pa" business. I hope you experience innumerable success in the future.

-Henry Smith

She arrived this morning! What a fantasic surprise. It is everything I imagined it to be..........incredible tone, easy to play and strikingly beautiful. Thank you guys for delivering the truth and superb service as well as fine guitar!

I just paused from 2 hours of continuous playing to write this note. I'll start playing again in a minute or so because I've waited a long time for a fine instrument like this and have a lot of catching up to do.

PS, the strings are perfect for me, what did you use?

Thanks a Million!

Lee

I just recieved the Axe From Hell.

Beautiful LP Custom in perfect conditions. Il love the frets.
My Mesa rocket44 & me are already overheating. A new set off strings, and let's get some r'n'roll.

Thank you for your business.

Roger Goudard
Shipping
We've shipped hundreds of guitars all over the world, with very minimal shipping problems. We pack and ship VERY carefully, but rest assured that if anything goes wrong with your shipment, we will make sure that you're taken care of. If the item is received in condition other than described we will happily refund your money.
Shipping is FREE of charge via FedEx ground in the 48 contiguous states.
We ship same day if your order is placed by 12pm EST! See the FedEx shipping map below for estimated delivery times!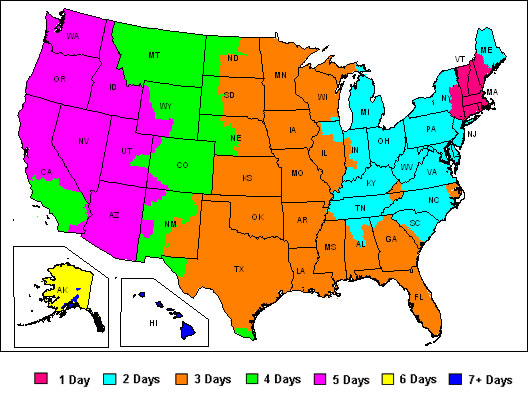 Our standard international shipping service is USPS Priority International, which allows us to offer the most affordable international shipping rates. We also offer DHL International Express Shipping, and can produce a location based quote for other international express carriers such as USPS Express as well.
Returns
Is your instrument just not doing it for you? We understand and we absolutely want you to be thrilled with any gear that you purchase from MusicStoreLive.com. WE ARE NOW PROUD TO OFFER FREE RETURN SHIPPING ON ALL DOMESTIC ORDERS PAID BY PAYPAL. That's right. If you're not happy with your guitar, you can return it to us at no charge within 14 days of your purchase. Nobody in the industry offers such an ironclad return policy.
Introducing: The Music Store Live "Backstage Pass"!
At MusicStoreLive.com, we're always working to provide an online shopping experience that keeps our customers coming back for life. With our new "Backstage Pass", we're offering you the chance to purchase gear at specially discounted prices that are too low to advertise to the general public!
The Backstage Pass is an all-access pass to the best prices on our entire inventory. Depending on the item, you can expect special discounts of up to 30% off! Your Backstage Pass will give you the best prices on all of our guitars, basses, amps, cases, pedals, cables, picks, strings, accessories and more.
This is NOT A ONE TIME SALE !!! The Backstage Pass gets you year-round access to these special savings on all of your gear needs!
BACKSTAGE PASS HOLDER BENEFITS:
Automatically be entered into our Monthly Free Guitar Pedal Drawing - for life! That means that every month you have the chance to win a free pedal without doing a darn thing!
All access savings of up to 30% on our entire inventory of incredible gear! This includes discounts on vintage gear as well as used gear!
Whether you are in the market for gear today or a year from now, sign up for your pass now to access our amazing pricing structure. It's free of charge and you may even win a free pedal from our monthly drawing!
Register to the right and take advantage of your membership savings today.